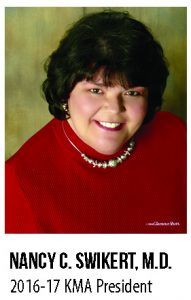 For more than 30 years, I have traveled in a journey through many branches of organized medicine.  I have been blessed to serve county, state and national groups as president, officer, on boards, PACs and as committee member numerous times.
Each of these positions has been like a bright, colorful thread that has become woven in a beautiful tapestry.  Hundreds of staff, volunteers and peers along the way have become flecks of gold and sparkle woven into that tapestry.  It is a wonderful, rich tapestry that is uplifting and a comfort to have.
This "life's tapestry" has warmed me when cold, shaded me when hot, been soft and comforting when in sorrow, and tough as nails when stressed.  Its story is constantly changing as new threads and sprinkles are woven in along the way.  Words cannot adequately express all the emotions woven into this tapestry. It has been saturated with love, courage and determination. It has become a beacon of strength and hope gathered on the trail and encourages travelers met along the road.
All of you are weaving your own tapestry as well.  Like mine, your tapestry is also providing and changing for you as your journey progresses. It provides beacons of strength and hope in areas all over Kentucky and elsewhere.  Physicians are called to their profession.  They take an oath upon graduation to protect the patient, even at the risk of the physician's life.  "Do no harm" is in that oath.  When our medical skills are needed, they take precedence over all else.  No other profession (except religion) mirrors medicine.
Some in today's world try to lessen that calling by imitating that profession.  Some try to assume that role without weaving their tapestry.  They don't have the threads needed to form that tight, cohesive unit.  We must not forget this because protecting medicine also falls in our calling.  Like the ancient warriors in history, physicians regroup and continue to carry that shield proudly.
I cannot express how full my year as your president has been.  You have supported me along the way by stepping up when called for help, shared encouraging words, extended faith and love, and always been there right beside me.  I humbly thank you for all these things and more that you have given so freely for me these past years.
Our shared tapestry is a work of art and love.
And now, we approach the beginning of another KMA presidential year.  KMA will be meeting Aug. 25-27 at the Hyatt Downtown in Louisville to celebrate this past year of service and kick off the next year of service. Please join me to celebrate. More threads await at this KMA Annual Meeting, providing the weaving of our tapestries together.  This cycle continues, year after year, connecting the future with the past. This "calling to lead" is continuous.
My tapestry, like yours, will also continue to weave in the upcoming years, as our "calling to serve" is not over.  Our tapestry continues to grow in beauty and strength until the end of our service where we then will be cloaked in that soft, strong, wonderfully rich tapestry we have woven to join the "Great Physician" at the final Grand Rounds.