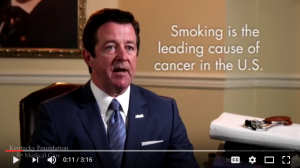 Scattered throughout the Twitter feed of Shawn Jones, M.D., (@scjonesmd) are messages about the detriments of smoking. He reminds followers that Kentucky is number one in lung cancer deaths; that the state's smoking-related Medicaid costs total nearly $600 million; and that e-cigarettes are not a safe alternative to tobacco.
Dr. Jones, the newly elected president of the Kentucky Foundation for Medical Care, also has been the face of the KMA Commit to Quit campaign, funded by the Foundation. The campaign focuses on directing smokers who want to quit to their physician for help.
For Dr. Jones, encouraging people to quit smoking is personal. His grandparents smoked; so did his parents.
"When you start looking at the statistics regarding smoking in Kentucky, it's just devastating in terms of the human toll it takes," he said. "We've known for 50 years what the consequences and health effects of smoking are."
Dr. Jones is a proponent of indoor smoking bans and has advocated for years for a statewide ban. "To me," he said, "it seems to be the obvious thing to focus on from a public health standpoint."
Senate Bill 89, which was passed in the 2017 legislative session, took a big step in the right direction, Dr. Jones said. The bill, which took effect at the end of June, requires insurers to cover smoking cessation treatments recommended by the U.S. Preventive Services Task Force.
But there is still a long way to go. "If we could move the needle on indoor public spaces that are smoke free and change the culture of smoking in our state," Dr. Jones said. "It's got such a huge ripple effect in terms of health and the viability of our state economically, that I think it's really important."
Dr. Jones is a prolific tweeter, focused primarily on helping people become healthier, both physically and mentally. As a physician, it's a long-standing interest that goes back to childhood. In fact, he can't remember ever deciding on a career path.
"It's not like I made a decision to be a physician," he said. "As long as I can remember, that's what I said I wanted to be."
As a young boy growing up in Frankfort, where his father, William L Jones, was a state trooper assigned to the governor, Dr. Jones went with a medical student who attended the same church to the University of Kentucky to see the student's cadaver. His mother, Linda Jones, would often take him on her daily visits to care for his great-grandmother, who had diabetes and ended up getting an amputation.
"That was one of my earliest memories," he said. "I think that factored into it."
Dr. Jones took advanced biology, chemistry and physics as a student at Franklin County High School, and talked to his family physician, Harry J. Cowherd, about his career plans. Dr. Cowherd recommended the University of Louisville.  Dr. Jones graduated with a BA in Biology in 1982 and then received his MD degree in 1986 from U of L.
"I got connected there and took the required classes and really never veered from that very early desire to be a doctor," he said. He also met his wife, Evelyn Jones, M.D., a Paducah dermatologist, in medical school.
After UofL, Dr. Jones completed an internship in general surgery at the State University of New York in 1987 and in a residency at University of Louisville Affiliated Hospitals in Otolaryngology, Head and Neck Surgery in 1993.
His practice in Paducah gives him the opportunity to see and treat a wide mixture of people. As an ENT surgeon, Dr. Jones has the opportunity to see more people over a longer term than many surgeons do. "I love the people aspect of it, that relational part," he said.
It's the connections to people that also prompted Dr. Jones' interest in organized medicine. The people he's met through KMA and the American Medical Association, he said, "are interested in the betterment of not just medicine, but their communities and they're good people to know. It inspires me to want to be a better physician when I see what other people are doing."
Dr. Jones, a former president of the Kentucky Medical Association, also served as First District Trustee.
"There's so much going on in the policy arena and with respect to legislation and regulation, and even in research, that I don't know that I would have ever had as much insight into, and I wouldn't have known about as early," he said. "In terms of keeping up with medicine as a whole, the AMA and the KMA do a really good job of keeping you informed."
Dr. Jones is a member of the 2016 class of the KMA Community Connector Leadership Program. He's a firm believer in leading by example. "For me at least, authentic leadership has to do with a sense of integrity or wholeness about who you are, and good leadership flows out of that," he said. "Particularly when it comes to being a physician, I think personally leading a healthy lifestyle and being an example in that regard is very important."
That philosophy is shaping his story in a book about physician burnout that he's writing. It's his personal journey and what he thinks could address burnout in the future.
The Joneses have three children—Rebecca, who is working on her PhD at Emory University in Atlanta, Shawn Curtis Jr., who just finished his first year of medical school at the University of Louisville, and Caleb, an incoming senior undergraduate at UofL.