FOR IMMEDIATE RELEASE
Aug. 29, 2023
CONTACT: Emily Schott
KMA Director of Communications
502-341-1926
schott@kyma.org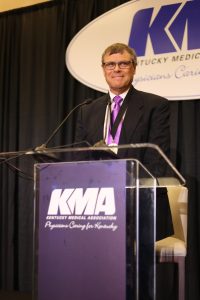 Winchester Physician Michael Kuduk, M.D., Installed as KMA President
2023 KMA Annual Meeting Focused on "Rejuvenating Medicine"
LOUISVILLE, KY—Michael Kuduk, M.D., a Winchester pediatrician, was installed as the 173rd President of the Kentucky Medical Association (KMA) over the weekend during the organization's Annual Meeting.
KMA members also elected four other officers during the 2023 meeting. Evelyn Montgomery Jones, M.D., of Paducah was elected President-Elect, and Jiapeng Huang, M.D., of Louisville was elected Vice President. Christine Ko, M.D., of Lexington, was elected Treasurer and Christopher Jones, M.D., of Louisville was elected Secretary after a constitutional amendment dividing the position of Secretary-Treasurer into two positions was passed during the House of Delegates.
A native of New Jersey, Dr. Kuduk is an Assistant Professor of Pediatrics at the Kentucky Children's Hospital. He graduated from the Johns Hopkins University and graduated from the University of Medicine and Dentistry of New Jersey (now Rutgers Medical School) in Newark. He completed his residency at Baylor College of Medicine, Houston, Texas. Dr. Kuduk previously served as KMA Board Chair and Vice President, as well as Chair of the Kentucky Physicians Political Action Committee (KPPAC). He is a 2018 graduate of the Kentucky Physicians Leadership Institute.
In his inaugural address, Dr. Kuduk discussed his goals for the year, including a focus on prior authorization reform, which was indicated as one of the leading causes of physician burnout in a KMA membership survey in 2022.
"I will continue to advocate for prior authorization reform, an issue that we can all agree not only impacts our daily lives, but the lives of our patients. Many of our physicians came to Frankfort to advocate on the issue, and we plan to put an even greater focus on it this year. We know that telling a story can be the most effective form of advocacy, and we all have many patient stories to tell showing how prior authorizations negatively impact the health of our patients." Doctor Kuduk's desire to address the issue was also overwhelmingly supported by the KMA House of Delegates, which passed a resolution calling for prior authorization reform, as well as a separate resolution citing prior authorization as one of the principal reasons for physician burnout.
In addition to the focus on prior authorization and burnout, the KMA House of Delegates passed new policies on a number of issues including eating disorders and the availability of obesity medications to patients; the dangers and negative health effects of Kratom; the need to increase the physician workforce in Kentucky; and the adoption of recommendations from a KMA work group on gun violence and firearm safety created in 2022. The work group recommendations included supporting collaborative evidence-based strategies and programming to address interpersonal violence; the promotion of evidence-based policies that promote safe firearm ownership; and education on the issue of firearm-related injuries, deaths and suicides in Kentucky's pediatric population.
Along with the installation of new officers and passage of new policies, the Annual Meeting featured a special education session, "Addressing Social Determinants of Health Through Innovation and Inspiration," featuring a diverse array of speakers from across the state. They include Connie White, M.D., of the Kentucky Department for Public Health, Ursula Mullins, PhD, of Dare to Care, Sarah Moyer, M.D., of Humana, Maria Braman, M.D., of Appalachian Regional Health, Jennifer Gray, M.D., of Fairview Community Health Center, Carolyn Burns, M.D. of the Society for the Advancement of Patient Blood Management, and Kelly McCants, M.D., of the Norton Institute for Health Equity. The session was moderated by 2022-2023 KMA President Monalisa Tailor, M.D.
KMA also presented awards to four individuals or groups during the President's Celebration Reception, held on Aug. 26.
Neal Moser, M.D., of Taylor Mill was recognized with the KMA's Distinguished Service Award, the Association's highest professional honor. Fred Williams, M.D., of Louisville received the Educational Achievement Award for his work in the creation and implementation of the Kentucky Physicians Leadership Institute (KPLI). The Community Service Award was presented to the Future Healers program, including co-founder Dr. Karen Udoh, Christopher 2X of the 2X Game Changers, UofL trauma surgeon Dr. Keith Miller and KPLI graduate and UofL transplant surgeon Dr. Christopher Jones. The program introduces youth who have been impacted by gun violence to the field of medicine. KMA awarded the Debra K. Best Outstanding Layperson Award to Matt and Kim Mangine of the Matthew Mangine Jr. Foundation for their advocacy surrounding sudden cardiac episodes and the importance of emergency action plans and the use of AEDs. More information on the 2023 KMA Awards of Excellence recipients, including videos highlighting each honoree, is available at https://kyma.org/kma-to-honor-award-recipients-during-2023-annual-meeting/.
Ten physicians were recognized for completing KMA's award-winning Kentucky Physicians Leadership Institute (KPLI). Participants completed a series of learning events that aim to cultivate physician leaders across the state. Members of the 2023 class are Kandis Adkins, M.D., Louisville, Muhammad Ifran Atiq, M.D., Lexington, Wesley Barnett, M.D., Cynthiana, Marisa Belcastro, M.D., Lexington, Hannah Brown, M.D., Lexington, Kellen Bo Yung Choi, D.O., Louisville, Destiny Etheridge, M.D., Louisville, Eric Fisher, M.D., Glasgow, Neelima Jayavant Kale, M.D., Nicholasville, and Siddharth V. Pahwa, M.D., Prospect.
KMA concluded special recognitions by honoring graduates of its Medical Student Outreach and Leadership (MSOL) program. Eighty-nine students from four campuses across the state completed the program this year, which is designed to engage students early in organized medicine and create future physician leaders through educational sessions and community involvement. A listing of students and their respective medical schools is provided.
###
About KMA
The Kentucky Medical Association is a non-profit 501(c)(6) organization that supports physician members and their patients with a variety of services. The KMA, established in 1851, represents and supports nearly 7,000 physicians, physician residents, and medical students across the Commonwealth of Kentucky. Learn more about the KMA and its programs at www.kyma.org.