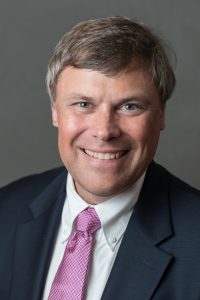 Posted August 23, 2019
Michael Kuduk, M.D., makes it his mission to make a difference wherever he is planted, whether it be in his community, his profession, or his hobby.
Currently chair of KMA's Board of Trustees, doctor Kuduk has served as the 11th district trustee representative on the board since 2015. He's also a graduate of KMA's leadership programs—the Community Connector Leadership Program and the Kentucky Physicians Leadership Institute.
A pediatric specialist in Winchester for nearly 30 years, Doctor Kuduk is the first person in his family to practice medicine.
His interest in the field began when he was a child, as an avid reader of books and encyclopedias.
"I was really interested in childhood diseases like measles, polio and diphtheria," he said.
Doctor Kuduk grew up in New Jersey and is a self-proclaimed "reformed Yankee." He graduated from the University of Medicine and Dentistry of New Jersey (now Rutgers Medical School) in Newark and did his training at Texas Children's Hospital in Houston.
He switched jobs two years ago to become a pediatric hospitalist at the University of Kentucky where he works at the Kentucky Children's Hospital, taking care of inpatients and educating residents and medical students.
His decision to leave private practice was not an easy one. "I don't recommend a career change in your 50's to anybody," he said. "Economics for solo practices is becoming more and more difficult."
He tells his medical students when they become physicians, it comes with a level of status that has to be earned and maintained every day and used in a positive way.
"As leaders, we have more power than we think to accomplish positive change in our communities," he said.
He practices what he preaches. He recently rotated off the Clark County School Board, where he served for eight years, five as chair. "When I was on the school board, people listened to me because I had doctor before my name," he said. "My words carried more weight."
He is proud of the accomplishments he oversaw. "I can definitely say when I was board chair, our schools were good," he said.
"We did a good job of educating kids. Our high school was highly ranked by U.S. News and World Report during my term as chair."
But his one regret was not being able to get a smoking ban passed in Clark County schools. That doesn't mean he's giving up. He continues to advocate for the health of his community and for physicians.
"I think as a physician you also have to stand up for and help yourself," he said. "If you look at the current medical system right now there are lots of entities trying to change the system because maybe it's not working as well as it should, but physicians, unless we speak up for ourselves, are not going to have a voice at the table."
He's been active in several leadership roles at Clark Regional Medical Center in Winchester. "I started on the safety committee, then moved up to the quality committee and worked my way through to credentials chairman, president of the medical staff—I probably held every leadership role I could have in that institution," he said.
"CCLP was a way to formally recognize and positively reinforce what I was already doing in the community," Dr. Kuduk said.
He said his participation in the KPLI program helped prepare him for the role of KMA board chair and taught him more about how to make the practice of medicine better for physicians in Kentucky. "You need to be focused, have a targeted audience, have a message, figure out what you need to do and have a plan before you start out," he said.
The KPLI program also provided him with the idea and framework to start a personal career development course for residents at UK. "One thing I tell my students is physicians are going to be leaders," he said. "You're going to be a leader in your community and your voice carries weight. KPLI was important because it provided a really good framework for learning how to use that voice effectively."
"One of the reasons you go into medicine, pediatrics in particular, is to help other people and make a difference in your community."
When he's not working or volunteering, you'll find Dr. Kuduk and his wife Lisa growing and showing flowers—especially daffodils. They have over 500 different varieties on their 15-acre farm in Winchester and travel to shows across the county.
His commitment to leadership is evident in his hobby as well. He recently rotated off the board of the American Daffodil Society after a nine-year stint where he served as regional vice president and director. He and his wife are accredited daffodil judges, and they travel to shows every spring. They also co-chaired for the 2018 National Daffodil Show in Nashville, which involved overseeing judging of 2,400 flowers by 36 judges.
"Yes, it was a lot of work, but it was worth it," he said.