Posted September 28, 2018
Wednesday, Sept. 26 successfully served as the Focus On Flu campaign's statewide 'Flu Shot Day' as announced during the Sept. 18 press conference that drew media attention from across Kentucky.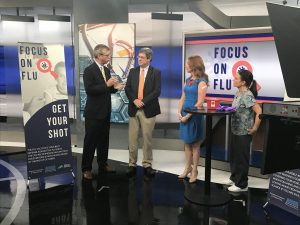 KMA and the Foundation for a Healthy Kentucky kicked off a busy agenda with a live appearance on Louisville FOX affiliate, WDRB. Anchor Candyce Clifft was joined by KMA President Bruce Scott and Foundation for a Healthy Kentucky President and CEO Ben Chandler to discuss the campaign and emphasize the importance of flu vaccine. Clifft then actually received her flu shot on air. The segment can be viewed here.
Flu Shot Day also saw the debut of a series of 'Flu Myth Buster' videos featuring KMA physicians. Each thirty second segment aims to debunk a common flu myth or misconception. KPLI graduates Casey Lewis, M.D., Mamata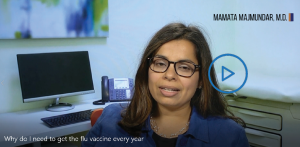 Majmunda, M.D., and James Borders, M.D. all served as the expert physicians for the videos. In addition, Rhonda Rhodes of the KMA Alliance filmed a short video emphasizing the importance of getting vaccinated.
At 1 p.m., KMA hosted its first-ever 'Twitter Q&A' with Norton Healthcare infectious disease specialist Paul Schulz, M.D. The hour-long event encouraged members of the public to ask Dr. Schulz questions related to the flu and flu shot. More than a dozen questions in total were answered.
Throughout the day, KMA shared photos of individuals who had received their flu shots and posted a 'flu shot selfie' on social media with the hashtag #GotMyShot. Many participants utilized custom Focus on Flu band aids provided by the campaign.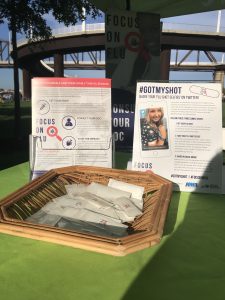 Focus on Flu wrapped up Flu Shot Day by teaming up with Passport Health at Louisville's WFPK Waterfront Wednesday. Attendees were offered educational materials on the flu and were encouraged to get their flu vaccines before the end of October.
More than 2,000 Focus on Flu band aids have been distributed since the campaign kickoff. Additional promotional events are planned for the coming weeks in Bowling Green, Campbellsville and Danville, and more media appearances are scheduled as well. A full list of Focus on Flu coverage is available at www.kyma.org/flu.