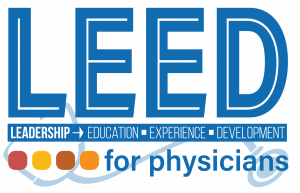 Physicians are being called upon to be leaders now more than ever before.
"The development of leadership skills for physicians of the 21st century is critical to medicine," said Shawn Jones, M.D., chair of the new Kentucky Physicians Leadership Institute (KPLI). "More than ever before doctors are being called upon to fulfill roles on committees, in large health systems, and in administration of hospitals and hospital groups.
"There is no better place and no organization doctors trust more than the Kentucky Medical Association to provide excellent educational opportunities."
Accordingly, KMA, in conjunction with its charitable organization, the Kentucky Foundation for Medical Care, recently launched a new leadership initiative called LEED – Leadership through Education, Experience and Development.
The LEED initiative offers a continuum of programs to cultivate and train physicians from all backgrounds and all regions of the state from the time they are medical students until they become leaders in their field.
LEED encompasses the KMA Community Connector Leadership Program (CCLP), the Kentucky Physicians Leadership Academy and the KMA Medical Student Outreach and Leadership Program (MSOL).
It now also includes the new Kentucky Physicians Leadership Institute (KPLI), which will launch in 2017 in conjunction with Butler University.
The KPLI is a deeper dive into leadership skills and will include four weekends of leadership training focused on personal leadership skills, business leadership and advocacy. It will culminate with the Kentucky Physicians Leadership Academy at the KMA Annual Meeting. Only 15 applicants will be accepted each year.
"We believe this (KPLI) will be a good start for someone who would like to be chair of a committee, be head of a medical society, be head of a specialty society, or take another leadership role in the community in public health in other ways," said KMA Executive Vice President Pat Padgett.
The CCLP was started in 2014 to provide an opportunity for physicians to enhance their leadership skills through education and direct community involvement. The CCLP just graduated its third class of graduates and includes a total of 25 physicians who've completed the program.
The Kentucky Physicians Leadership Academy, open to all KMA members, is a daylong session focused on leadership during the KMA Annual Meeting.
The MSOL program is designed to promote community involvement, as well as to give students an opportunity to learn more about the political, social and economic issues in the health care system. Twenty-three medical students from the University of Kentucky and the University of Louisville were recognized in the first class at the 2016 KMA Annual Meeting.
"By virtue of what we do every day in medicine, we are already seen as leaders," Dr. Jones said. "Why not leverage that influence through professional leadership development?
"KMA is singularly poised in the Commonwealth with the organizational capacity, expertise and desire, particularly with respect to leadership training, to serve the physicians of the state."
To learn more about the leadership programs offered through the KMA and KFMC, visit www.kyma.org/community-health-advocacy/kma-leadership-programs/ or www.kyfmc.org