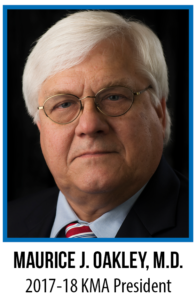 Posted: June 18, 2018
There are few things in life as universally popular as the season of summer.
Warm temperatures, longer days, vacations…there's certainly a lot to like. Aside from mosquitos and sunburns, summer tends to be an enjoyable time for all to relax and recharge before the hustle and bustle of fall.
I'm especially enjoying this summer after what turned out to be an unusually cold and wet spring in Kentucky. The first half of 2018 was also difficult for many physicians, as we dealt with a severe flu season that has only recently subsided. As an organization, we then had to push back on Anthem's proposed change their modifier 25 policy, which would have hurt both providers and patients. There was also a tumultuous legislative session to contend with. But physicians and patients have successfully emerged from all challenges, thanks to the hard work of our Association and members across the state.
With those events behind us, I'd like to encourage you to use this summer as an opportunity to re-center yourself and take stock of the things outside of medicine that bring you happiness and joy.  Physician burnout is a real and serious threat to our profession. Our colleague and President of the Kentucky Foundation for Medical Care (KFMC) Shawn Jones, M.D., writes in his book, Finding Heart in Art: A Surgeon's Renaissance Approach to Healing Medical Burnout, that more than 46% of surveyed physicians report experiencing burnout. In some specialties, the number was more than 50%.
Jones describes the subtle nature of the realization of his own burnout:
"In retrospect, my experience was not so much an explosion nor a burnout as it was the result of a very slow leak punctuated by multiple traumatic episodes. Some of these were self-inflicted and some were perpetrated, but there was no single event that sent me over the edge. There have been multiple places in my life where a change might have interrupted the course of events that led to me being in this state of mind."
As has been stated before, the role of a physician is not so much a "job" as it is a calling. But it's one that requires us to work hard to maintain an identity outside the clinical setting. In particular, it's important for us to pursue interests outside of medicine. The KMA is planning to celebrate all the talents and hobbies its physician members enjoy with its Beyond the White Coat gallery at the upcoming KMA Annual Meeting, to be held Aug. 24-26 at the Louisville Marriott East. Beyond the White Coat will feature original submissions from physicians, residents and medical students who engage in activities that reduce stress and help them maintain balance in their busy lives.
KMA is accepting submissions for Beyond the White Coat through July 1, so be sure to contact KMA Education Director Miranda Mosley soon to include your submission.
Whether you enjoy tennis, fishing, art, dance, restoring old cars, reading, running, or just drinking lemonade on your back porch…I hope you are able to do a lot of it this summer. After all, it's good for your health.